Manuskrip Melayu
Manuskrip Melayu (2)
MALAY MANUSCRIPT
Malay Manuscript is defined as the result of Malay traditional literature that is handwritten in `Jawi' or `Rumi' and used materials paper, animal skins, leaves, bamboos, tusks, woods and cloths which the contents and time limit is unlimited. The making of manuscript begins rapidly after the arrival of Islam, that is after the Malay people welcomed the Arabic writing as their writing. With that, the development age of Malay manuscript is after the arrival of Islam until the end of 19th century.
 Realizing the height of knowledge and uniqueness inside this national heritage treasure, Heritage Department has taken the initiative to explore the Malay manuscript knowledge including the study of the paper type, watermarks, colophon, illumination, calligraphy and so on. The program that was held on 9 March 2013 at Sultan Sulaiman Club Building, Kampung Baru, Kuala Lumpur had received an overwhelming response with the attendance of more than 100 participants.
Pn. Nasimah Bt Badarudin, Assistant Director of Malay Manuscript Department, National Library is presenting her paperwork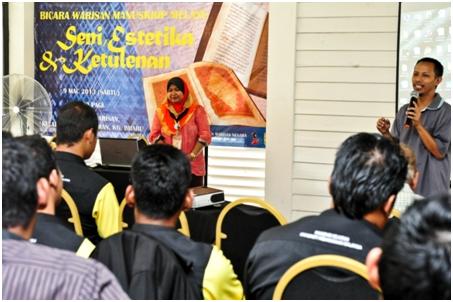 Interaction session with Pn. Effah Imtiaz bt Zainol, National Library Officer is presenting the second paperwork
 Some of the reaction of the participants that attended Malay Manuscript Heritage Talk who are excited with the discussion about the uniqueness and beauty of Malay Manuscript
Focus Intangible Heritage
Karnival Permainan Pendidikan Khas Peringkat Jabatan Pendidikan Wilayah Persekutuan Kuala Lumpur
Jabatan Warisan Negara (JWN) sentiasa menyokong aktiviti membudayakan warisan seni budaya Malaysia ...
28 Aug 2018
0 comment
Heritage News Archives

Heritage Events Archives

Heritage Tender Archives

Heritage Newspapar Clippings Archives