Archaelogical Sites
ARCHEOLOGICAL SITE
LIST OF NATIONAL HERITAGE ARCHEOLOGICAL SITE 2015
TIGER CAVE, PROOF OF METAL AGE EXISTENCE 4000 YEARS AGO
RESEARCH:
Tiger Cave was first excavated by Williams-Hunt in 1951. He has found a child skeleton, picks, pottery and food waste. He was able to make a radiocarbon dating 3,450 ± 150 BP which is Malaysia's first radiocarbon dating. Further research was conducted by USM since 1987 and found evidence of burials from 4,920 ± 270 to 1,760 ± 95 BP
SITE IMPORTANCE:
Tiger Cave is an important pre-historic site in Malaysia. The factor that brought its importance was the discovery of the earliest bronze age culture in Malaysia.  Radiocarbon dating that was given to the burial was between 3,000 and 4,000 years ago.  Archeological excavation has found burial that includes two eras of culture, that is Neolithic and Bronze culture. Excavation in Tiger Cave has found a complete bronze axe with its mold that is the first to be found relatively unharmed. This site also produced various complete pre-historic potteries and pre-historic decorations such as necklaces and cowrie earrings, shell bangles and rock.  Scientific studies conducted on the human skeletons and potteries suggest that pre-historic Tiger Cave dwellers have similarities and relationships with Neolithic age human population that inhabited Gua Cha site in Kelantan and Ban Kao in Thailand.
Bronze artifacts were generally made by combining three types of metal namely copper, tin and lead.  The first archeological proof about bronze in Malaysia was found during an excavation in 1998, a bronze axe with pottery mold that was used to produce it, was found in a burial dated around 3,500-4,000 years ago inside Tiger Cave in Lenggong Valley, Perak. This suggests the possibility of a natural bronze industry in Malaysia and not limited in Thailand only as thought before.
 FINDING:
This site discovered at least 12 human skeletons in stretch out positions with various articles consisting of bronze axe with its mold, pottery, stone tools and bark beater, jewelries which includes shells and stones bangles, earrings, shell necklaces, glass beads and food remnants such as animal bones and river snails. This site serves as the burial site of Neolithic and Bronze age.
 Tiger Cave is an important pre-historic site due to the discovery of the earliest Bronze Age culture in Malaysia. Scientific studies conducted on the human skeletons and potteries suggest that pre-historic Tiger Cave dwellers have similarities and relationships with Neolithic age human population that inhabited Gua Cha site in Kelantan and Ban Kao in Thailand.
CAVE TELUK KELAWAR
 RESEARCH:
 Teluk Kelawar Cave is located in Bukit Kepala Gajah, was excavated in 1990 (Zuraina; 1996, 2003). Rock barriers that are over 31,000 years old (Mokhtar; 2005) resulting in the discovery of stone tools and food remains from Upper Paleolithic Age.  The site is now the site of a major study for evaluating the sustainability of late Paleolithic to the Neolithic.
 SITE IMPORTANCE:
 This site was about 10,000 to 2,000 years old using the radiocarbon dating method.  At the previous >10,000-year layer, stone tools and food remains were found. The stone tools materials are form river pebbles and limestones.  At the previous 8,000-year layer, the burial of Holocene human skeletal was found.  This site has provided the evidence of Late Pleistocene-Early Holocene activities in Lenggong Valley. Society adaptation is the lake, river, forest environment like nowadays.
Teluk Kelawar Cave is situated within Bukit Kepala Gajah limestone complex.  The cave is on 05˚07.44' north latitude and east longitude, with the height of 76 meters above sea level.  This site has been studied by USM since 1990. The result of the studies revealed that Teluk Kelawar Cave site has been used from about 11,000 until 6,000 years ago.
 FINDING:
Most artifacts that found were unifacial and bifacial stone tools, as well as food remnants such as Brotia Costula and Brotua Spinosa river snails, and other fauna evidences like wild boar, antelopes, badgers and deer. Faunal evidence shows that the environment appearance at that time was the same as what we see now, inside the tropical rainforest. Studies also found a human skeletal (GTK1) that is dated around 8,000 years ago. The skeletal was buried in a folded state along with unifacial and bifacial stone tools and food remains. The burial shows that Paleolithic era in Malaysia continues until early Holocene, before they could produce pottery. Other than archeological proof, Teluk Kelawar Cave reveals the rock barrier shape that is always found in limestone formation in Malaysia.
JOHOR OLD TOWN
 BACKGROUND:
 Johor Old Town also known as Kota Batu has a very interesting history.  This town is built by the command of Sultan Alauddin Riayat Syah II who was the son of Sultan Mahmud Syah I, the last Sultan Melaka.  After Melaka has been defeated by Portuguese in 1511, Sultan Mahmud had set up administrative centers in several places in Muar, Pagoh, Bentan and Kampar.  He died in Kampar and was buried there in 1528.  His son was crowned Sultan and known as Sultan Aluddin Riayat Syah II and moved to Johor from Kampar.
JOHOR OLD TOWN DEFENSE:
In the past, several cannons with guards are placed at the city wall which is the located at the end of Tanjung Batu, because the view towards Sungai Johor can be seen there, whether its movement is either downstream or upstream. The area is strategic because the city could see enemy movement through the Johor river clearly and the enemy is not able to climb the high and steep town river edge easily. Enemies who come to attack faced great risk and will be shot by the cannons mounted on top of the city should they crossed the Johor rivers heading upstream. On the upstream side, they will face stiff opposition from cannons mounted on the direction of another city or fortress located on the riverside of Old Johor. The city was known as Budak Fortress or Budak Town, is the most important defense center if there is an enemy attack from the upstream direction.
 In Johor, he has set up the central government in the Old Town, now known as Kangkar Lubuk Town in Hulu Sungai Johor, about 11 km upstream from the town of Kota Tinggi. A little downstream from where he resides, fortress that was known as Kota Kara was established as defense. In 1553, after five years of residing in the Old Town, the Portuguese armed forces from Malacca under the leadership of Estevao da Gama had come to attack the city of Kara and dominate the town. Sultan Alauddin Riayat Shah II and his followers had retreated from the Old Town before the attack. He had retreated to Sayong and set up a defense there. He came back to the Old Town and repaired Kota Kara which were attacked by the Portuguese.
 In 1536, the Portuguese once again invaded the Kota Kara and Old Town. After the Old Town and Kota Kara were attacked, he retreated to Muar. Then in 1540 he resided on Bentan and Kampar, the same year he returned to Johor and made Old Johor which is next to Johor River as the administrative center. A fortress was built on Tanjung Batu to control the enemies that come through the river through the Johor river and Old Johor that had developed as a trading center.
 About 24 years Sultan Alauddin Riayat Shah II reigned in Old Johor, an army of Acheh have come to attack Old Johor under the leadership of Sultan Alauddin Riayat Shah Al-Qahhar. The war in 1564 ended in defeat on the part of Johor. Old Johor and the central government defense Johor in Kota Batu was destroyed and many valuable items were seized and taken back to Aceh including hundreds of cannons. Sultan Alauddin Riayat Shah II was also captured and brought to Acheh.
 His son, Raden Badar has been named as the new Sultan of Johor by the Aceh with the title of Sultan Muzaffar Shah. He was sent back to Johor and he reinstated Kota Batu. He does not like to be controlled by the Aceh government had transferred his administration to Seluyut. He made this decision because of the possibility of Aceh will come against Johor if he did not obey the orders of the Sultan of Aceh. Seluyut serve as a new administration center and this place grow in population. (Tun Seri Lanang was born in Seluyut in 1565).
 In 1571 Sultan Muzaffar Shah died in Seluyut and was buried there as Marhum Seluyut. He was succeeded by his nephew, Sultan Abdul Jalil on his testament which wanted his nephew to take over the throne. Sultan Abdul Jalil at the time was only 8 years old and he died exactly one year after inauguration. He was succeeded by his father with the title of Sultan Ali Jalla Abdul Jalil Shah II. Sultan Ali Jalla Abdul Jalil Shah II was initially residing in Seluyut but not long after he had moved the government center to Old Johor.
 Old Johor Town which was left for 9 years was repaired and enlarged. Kota Johor Lama that has been fixed is equipped with cannons to defend the city when attacked. During the reign of Sultan Ali Jalla Abdul Jalil Shah II, Old Johor Town became an important center of defense. Johor River was the route of the traders who came from outside such as Gujarati, China and so on. Old Johor became a thriving commercial center and has affected the Portuguese trade center in Malacca.
 So to curb the unpleasant circumstances particularly the hostile attitude shown by the Sultan of Johor, in 1576 the Portuguese sent an army to attack Johor but the attack was thwarted by Johor soldiers in Old Johor Town. The Portuguese did not give up and in 1578 the Portuguese launched an offensive against Old Johor but again it failed to destroy the city. The attack on Old Johor does not only come from the Portuguese, but also from Acheh too. Although there is family relationship between the two parties as a result of marriage between Sultan Ali Jalla Abdul Jalil II with an Acheh's princess, the sultan did not like the actions of the Acheh who considered Johor as part of Acheh and shall comply with instructions from the Acheh government. The rift led to the war in 1582 between Acheh and Johor but Acheh failed to beat Johor because of the assistance from the Portuguese in Malacca.
 Since getting help from the Portuguese, a friendship between the two parties over 5 years were built but it did not last long. Recurrence disputes between the two parties occured over and over leading to the war on April 21, 1587. Portuguese have sent an army to attack Old Johor Town led by Antonio de Noronha. Portuguese once again failed to take the city of Old Johor Town and retreated back to Melaka. The failure of the attack has not deterred Portuguese, instead on 10 August 1587, a war team led by Poulo de Lima Pereira came to help the Portuguese army that is attacking Old Johor Town and Old Johor Town was finally conquered. Kota Budak or Kubu Budak neighborhood also was captured by the Portuguese.
PENGKALAN KEMPAS MEGALITHIC
RESEARCH: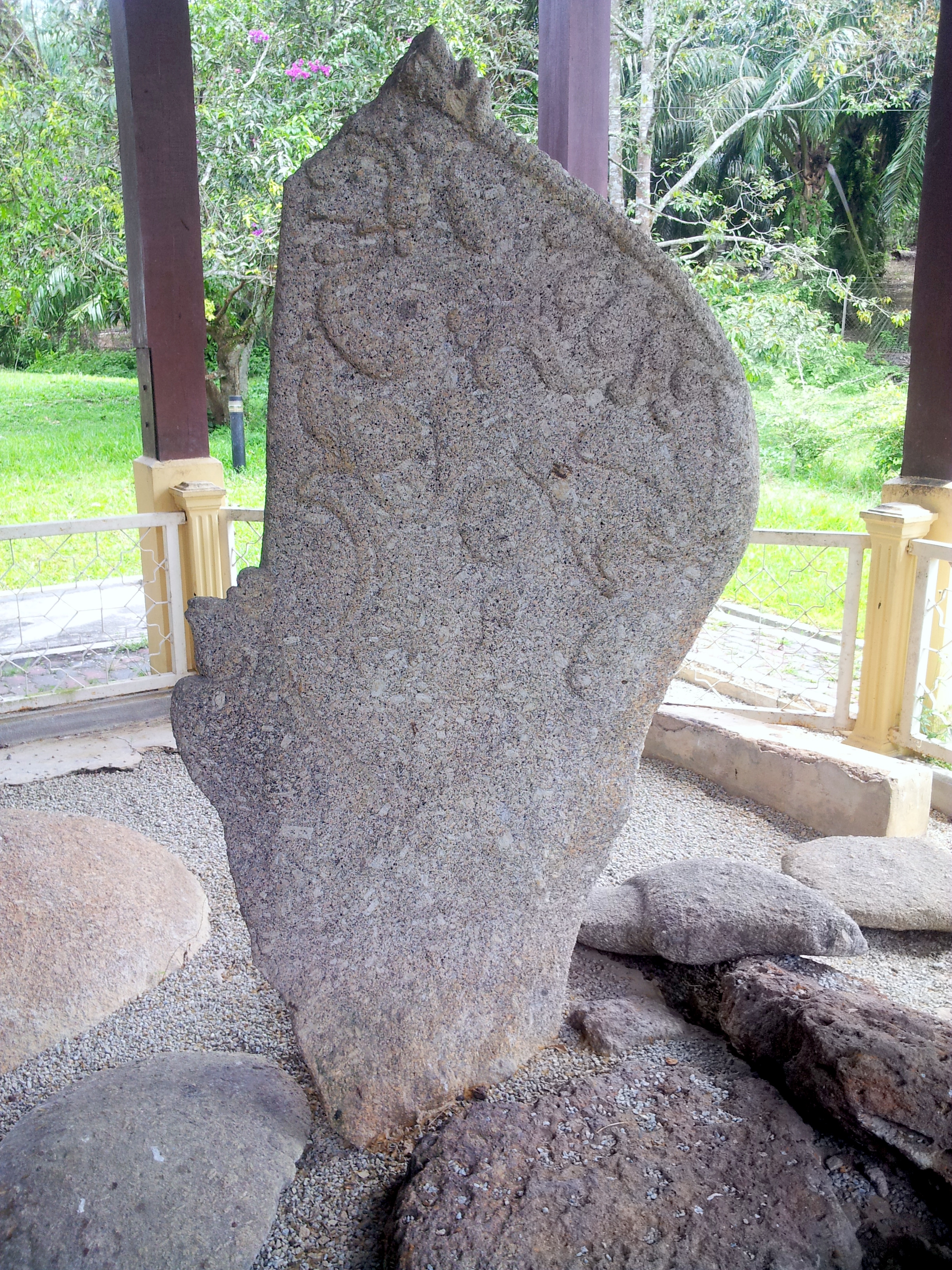 Megalithic archeological studies and research in Peninsular Malaysia was first performed by I.H.N Evans in Pengkalan Kempas site in 1919. According to the data reported by Evans, there are approximately 15 granite stones while three major monoliths withe laterite stone in a state of scattered, tilted and collapsed. During the excavation process ceramic grayish (possibly eroding glaze effect mixed with watery land), celadon bowl and the base of blue-white and blue-white cup portion were found. In addition, shards of celadon cups and greenish-gray cove was also found. They also found round broken glasses, three of them dark-colored (two are in blue) and one transparent (bright), stone that was believed to be used for grinding and coins that have corroded.
 From the point of stratigraphy, the culture in the Pengkalan Kempas is two feet deep (sand effect varies with its layer above). Soil layers showed no any interference effects while burning effects were found. During the excavation process at this site no skeletons were found. Overall, it is believed that the site is dated around 14-15 century AD and is associated with Sheikh Ahmad Majnun tomb who died around 1467 M.
RESEARCH INTERPRETATION:
Relations between megaliths and art can be seen by the omissions of live rock that exists in Pengkalan Kempas, Negeri Sembilan. It can be divided into two main aspects, namely, first, megaliths that have a rudder shape, spoon (umbrella) and sword (dagger). Second, the ornamental or aesthetic patterns on live rock also can be divided into two elements, namely nature and animal that represented the lives in the sky, water and land. While animal carvings were represented by a peacock spreading its wings, horse (upright stone wheel), snakes and elephants (upright stone sword / dagger). Ornamental aquatic animals were represented with fish / frog (upright stone wheel) while decorative plants were represented flower motifs (upright stone wheel).
 Essentially all aspects of this can be attributed to the leadership created in the form of symbolism and clearly shows how this pattern has a relationship with the customs practiced in Negeri Sembilan. At the same time there is also a pattern that represents a different period based on the various arts, for example in the form of live rock shaped in swords, there are decorations that represents classic age that is called kala. It is interpreted in the iconography acts as a repellent and guard against evil power. On top of it, it had the word of `Allah' that clearly shows the acceptance of Islam by the public during its making without dropping the previous elements. Hence, the living stones, the graves of Sheikh Ahmad Majnun and inscriptions that describe the role of this place is absolutely in line with the concept of the sacred. There are three upright stones shaped as rudder, spoons and swords. There is a square stone in front acting as a stone seating. There is also a tomb known as Sheikh Ahmad Majnun. Decorative elements on the vertical stone characterized by animal such as horse, snake, fish, scorpion, peacock, God and flower motifs symbolize the prehistoric, classical and Islam. Served as a community discussion and punishment sentencing place regarding the customs.
KALUMPANG ISLAND
 RESEARCH:
The site is located in the mangrove swamp at Kalumpang Island. The first research conducted by I.H.N. Evans in the 1920s and 1930s after receiving a report from the North Perak forest deputy restorer B.W.F Barnard in 1924. The site is believed to be the remains of pre-modern society. Other researchers such as Quaritch-Wales (1936), Sieveking (1955), Dr. Gibson Hill (1956) and Peacock, Lord Medway, Alastair Lamb and his wife Venice Lamb in 1963. In 1987, research and archaeological excavations have been carried out by the Museum Department in collaboration with other departments at the state level.
 The location chosen is Bamboo Island which is one of the islands from the entire 8 islands located on Kalumpang Island. Subsequent research conducted in 1988 by the Department of Museums and Antiquities in cooperation with the state-level agencies and the National University of Malaysia.
FINDINGS:
Artifacts that have been reported found by Evans through excavations conducted are boats, human bones, pottery shards, beads from akid stones, glass and carnelian. Oriented Hindu artifacts were also found among the gold ring inscribed with the god Vishnu on garuda and seal pictures in Pallava writing, Sanskrit. This discovery is evidence of the existence of the pre-settlement maritime community in these islands and it is located in international trade water traffic one time ago the and port where traders get their clean water and food.
The discovery of thousands of Indo-Pacific glass beads and raw materials shows that the site is one of the sites that produce Indo-Pacific glass beads, while the discovery of thousands pottery fragments also shows the local community produced pottery to be traded in the outback. Based on absolute dating, the site was already occupied by coastal communities since 200 BC. Kelumpang Island community were also great sailors and traders based on the eco facts discovery such as fish from the deep sea.
Heritage News Archives

Heritage Events Archives

Heritage Tender Archives

Heritage Newspapar Clippings Archives