Victoria Institution, Kuala Lumpur
Victoria Institution, Kuala Lumpur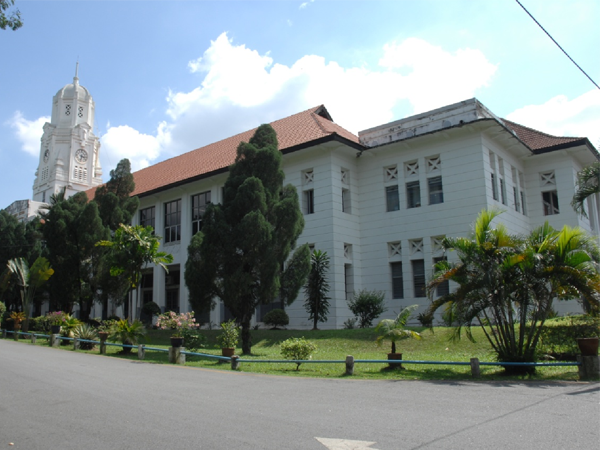 Victoria Institution in starts in the High Street, Kuala Lumpur, is now a way of Hang Tuah and officially opened on 30 Kulai 1894. The name Victoria Institution named after Queen Victoria of England to commemorate Queen Victoria's Golden Jubilee celebrations. The school was founded by the British Resident, tin merchant bijuhLoke Yew, Kuala Lumpur Chinese Kapitan Yap Kwan Seng and businessmen ThanboonsamyPillay to meet the need to establish an English school in order to create an efficient English-speaking staff to fill positions in local government. The building was designed by the renowned architectural firm, Swan and Maclaren. In 1925 a new site to build a larger school for Victoria Institution has been identified by the government in Bukit Petaling. DY.M.M. Sultan of Selangor, Sultan Sir Ala'eddin Suleiman Shah laid the foundation stone of the new school's Victoria Institution on 21 September 1927. The school building with a master plan 'E' is designed in the style of Art Deco architecture with its main attraction is the clock tower that dominates the landscape Bukit Petaling then. On 2 March 1929, the prosecutor Victoria Institution has moved from High Street to Bukit Petaling on March 26, 1929, Victoria Institution in Bukit Petaling inaugurated by Sir Hugh Clifford, the British High Commissioner. Thus, he became the first secondary school in Malaya. Victoria Institution is located at No. 71, Jalan Hang Tuah (formerly Shaw Street), Kuala Lumpur famous with the cadet team which was established in 1901 by the first headmaster Mr. Bennet Eyre Shaw. He also formed a brass band of Pipe and Bugle Band which joined the cadet corps. Now Victoria Institution Cadet has Infranti team. Kuala Lumpur First scout groups and marching band that brought the name of the school as a prestigious school and the country proud after becoming the champions of the world band schools. In the arena of history, this is the school official handover ceremony the Japanese to the British in 1945. In addition, the Alumni Association of Victoria Institution known as Victoria Institution Old Boy's Association (VIOBA) was established in 1922. Most of the alumni of this school became well-known figures countries such as Tan Sri Ananda Krisnan, Alahyarham Mokhtar Dahari, former national football player, Datuk Dr. Mani Jegathesan, Datuk Seri Rafidah Aziz, economist and former minister, the HonourableDato 'ZulhasnanRafique, Minister of Federal Territories, the HonourableDatuk Dr. Ng Yen Yen, Minister of Women, Family and Community Development and the HonourableDato 'Seri Hj. MohdShafie b. Hj. Afdal, Minister of Unity, Culture, Arts and Heritage Malaysia.
National Heritage Department has been repairing the school building in 2009 and it became the place held Ceremony of the Declaration of National Heritage by the Honorary Minister of Unity , Culture , Arts and Heritage in the same year .
Focus Conservation
BENGKEL KERJA KAYU DALAM PEMULIHARAAN 2017
SEREMBAN - 29 September, telah diadakan Bengkel Kerja Kayu dalam Pemuliharaan 2017 di Klana Resort, ...
02 Oct 2017
0 comment
Heritage News Archives

Heritage Events Archives

Heritage Tender Archives

Heritage Newspapar Clippings Archives